07 Maggio 2014
Print the coupon and come to visit us on May 20th 2014 to obtain a special discount of 10% off all our brand- named items (see Sweeties & Focaccia).
CLICK HERE to print the 10% DISCOUNT COUPON.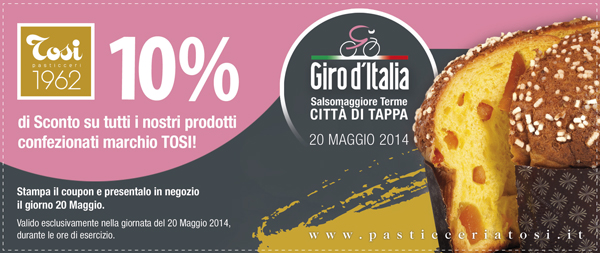 The 2014 "Giro d'Italia", starting on the 9th of May in Belfast and finishing on 1st June in Trieste, will pass through Salsomaggiore Terme on the 20th of May !
The 10th leg of the Giro d'Italia has the departure planned from Modena and the arrival in Salsomaggiore Terme after 173 Km. The arrival is scheduled at 17.00 in Via del Lavoro. We are expecting an overwhelming turnout !